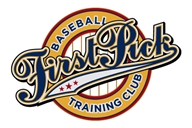 First Pick Baseball Training Club
Gilbert, AZ
Baseball & Softball training
Certified instruction in
Pitching - Hitting - Fielding for ALL ages
Owner, Jim Booth at First Pick is trained in the skill of teaching rotational hitting.
He teaches the swing used by the majority of Major League Baseball professionals
He is a member of the National Pitching Association and is trained and certified as a pitching coach by former
Major League pitcher, Tom House http://www.nationalpitching.com/ and other professional instructors
He teaches all aspects of the game - pitching, hitting, fielding, catching and conditioning.
Clinics - Private & Group lessons
Call 415 722-6573
email jbooth@firstpickclub.com
STEP UP TO THE NEXT LEVEL OF PLAY
Learning proper mechanics is the foundation for getting to the next level in all sports.
Building a strong foundation leads to success which leads to the confidence required to achieve your maximum potential.
First Pick Certified Coaches are specifically trained in the latest techniques and biomechanics used by the pros.
Our training system will turn any player into a competitor. Through private one-on-one or small group instruction.
IMPROVE YOUR GAME!
"Jim has a solid understanding of the swing and much deeper understanding of the physics involved as well. I have personally talked hitting with him on many occasions and would feel very comfortable having him give lessons in my facility. I would urge you to take the time to sit down and talk with him. I think you'll find he'll be a great help improving your swing."
- David Matranga, Former AAA player
"I have spent a lot of time discussing baseball and hitting with Jim Booth. I know that he understands the details of how top Major League players swing the bat, and he knows how to teach it. If you want to improve your game, I recommend that you enroll in his training classes."
- Jerry Goff, Major League Baseball Player 1990-1996
Ted Willams Instruction
Hips lead the way
Video of MLB hitters
Run Production by hits simulator. Click here
Run Production for team simulator. Click here
Pitch and swing times. Click here
Updated 10/28/2016
Hitting Lessons
To purchase 1 hour lessons for $20 each click "Add to Cart" and call to schedule